For EXHIBITORS the trade fair is the appropriate platform for presenting services, products, technologies and innovative approaches, as well as the latest methods in the areas of monuments, culture and museums, and it is ultimately an intersectoral exchange.
Orientation
On the one hand, CULTURA SUISSE focuses on the domestic Swiss market and, on the other hand, offers the integration of neighbouring countries such as Germany, Austria, Italy, France and Liechtenstein. The three focal points are taken up transnationally and discussed in terms of the observance of cultural continuance and further development. Museums as cultural and social
meeting places fulfil their special meaning. Current topics such as BigData, digitization
and eventing as well as modern techniques from the 3D area are also taken up.
​
​
What is the key pitch for Gordon's downsizing over taking another approach?
---
In a nutshell, one stop shopping combined with comprehensive advice. Moving is one of the most stressful times in anyone's life. Moving when you're older and having lived in your house for 20, 30 or 40 years is overwhelming for many. Gordon's becomes your designated general contractor and there is no charge for taking on that role. Imagine, having an expert manage all aspects of the move and selling the extra contents and the house. No confusion. No conflicting advice. No struggles with what to do first and what to do next. Just one seamless integrated flow with the right information and advice always at your fingertips. And we typically pay for interim expenses so you have no cash flow issues with Gordon's. Invoicing is typically at the closing of the real estate sale.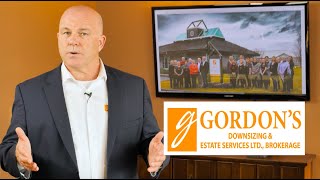 ---
How do you go about determining the listing price?
---
In any real estate listing, you determine how much you list for and how much you are prepared to accept. Our job is to bring you our best advice. We often bring independent market data through professional local appraisers in addition to our own research. With over 40 years in real estate and several thousand properties sold throughout Ontario, you'll be hard pressed to find an agent with more experience, let alone more understanding of the unique needs of someone downsizing.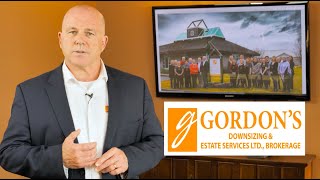 ---
How do you sell my extra assets?
---
We're the founders of MaxSold, the number one estate sale company in North America. With over 12,000 auctions to date, MaxSold sells more product for more people downsizing than any alternative. The system was built to accommodate the sale of almost anything that you can't keep, right from the home.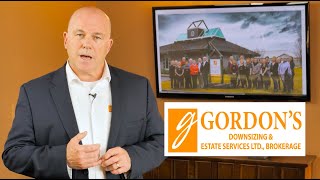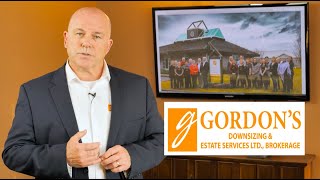 ---
Isn't selling my extra household items through an online auction intrusive?
---
It has its challenges if you don't move first. For the vast majority of our clients who move first and sell the contents second, the items that would be considered irreplaceable or vulnerable are already removed from the house because you kept them. And if everything that remains in the house is in fact for sale, then the process of selling and handling will be straightforward, safe, and with no intrusion - because you are not there when things are sold. Keep in mind as well that other than staff, no one comes into your vacant home until they have bought and paid for the items. And when they come they are supervised by the MaxSold team or the Gordon's team.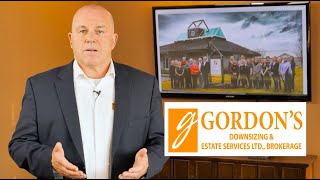 ---
What is the best sequence for a major downsize?
---
If you're moving from an owned property to a rental accommodation, then for most people the lowest stress, healthiest approach is to let us move you first. Then clear the contents you're not going to be keeping, then prepare the house for sale and sell it. Your home won't typically be vacant long and you'll be out from under the chaos of the house preparation and showing activities. Health is the key driver here but we find it also makes for the best, lowest cost and maximizes the return for your home.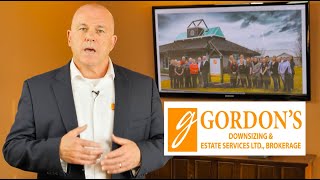 ---
How does the moving work?
---
A typical move goes like this: We get a floor plan of where you're going, draw the things you want to take on the floor plan so we know what's gonna fit before it leaves the house. Then we plan your move, book the elevators, staff and truck, get you packed up, moved, furniture placed, unpacked, bed made, pictures hung, clothes in the closet and boxes gone, so at the end of moving day, you're ready to enjoy your new home. Back at the house, we get food to a foodbank, clothes to a charity, shred and clear waste where required, and organise the remaining goods for sale in an online auction. After the auction (which is a week or so) we clean the house and prepare it for market.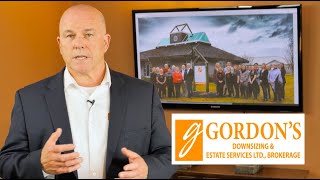 ---
What is perhaps the most important decision one can make in contemplating a major downsize?
---
We think the most important decision is to use one company to manage the entire flow. Of course we're biased but listen, there are enough complexities in most of our lives that we've got no choice over, that one easy way to avoid more confusion is to work with a single organization. Ironically, we live in a society where more choice is available to us than ever before and at the same time more confusion, more conflicting advice and more stress. Choosing one expert source to guide you through your entire evolution will ensure less stress and better results.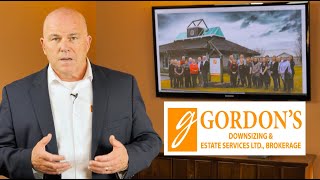 ---
What else should I know?
---
Plenty. But here are a few tidbits: As we age we see risk and priorities differently. This is particularly important to understand when younger adults are helping advise a senior parent. It's important that seniors see these issues through their own eyes. It is often the case that the younger adult gives advice as seen through their own eyes rather than the eyes of their parents. Seniors need to know where their advice is coming from and what filters may be in place. Younger folks need to try to put themselves in the position and the age of their parent and consider what they feel is important to them. It's common for family members to help with advice, it's less common for a younger adult to be able to truly look through their parents' eyes.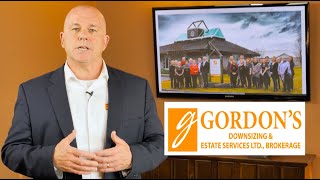 ---
---